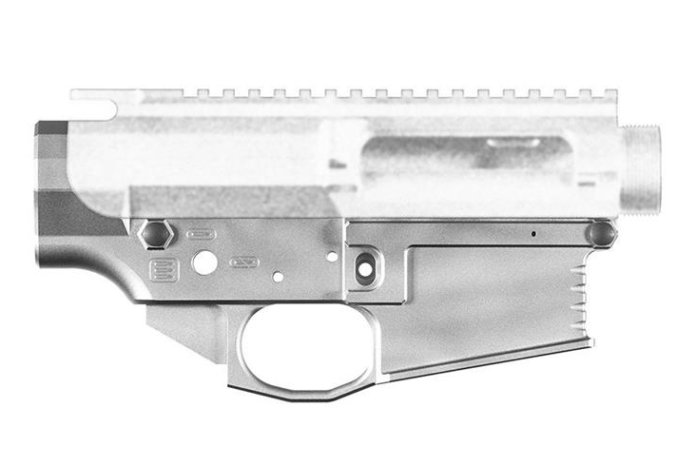 In this quick guide, I'm going to explain how to finish your stripped AR-308 – also known as an AR-10 – lower receiver…
I'm assuming you're a complete beginner and don't know anything about it.
This is what you need to do to have a fully functional AR-308, if you've finished an 80% lower receiver.
The good news is that it's not that hard…
In fact, as you'll see below, if you can watch a YouTube video, you can build your AR-308 lower receiver.
It doesn't require that many parts. And you don't need that many tools either.
What Is a Stripped AR-308/AR-10 Receiver?
A stripped lower receiver, is simply an AR-308 lower receiver that is ready to accept a lower parts kit (made up of things like the trigger, the hammer, etc), but no parts have been installed yet.
There are two primary ways to acquire a stripped AR-308 receiver…
The first way, is if you have built your AR-308 lower receiver yourself from an 80% lower. You did all the milling and cutting and drilling and now you have a firearm: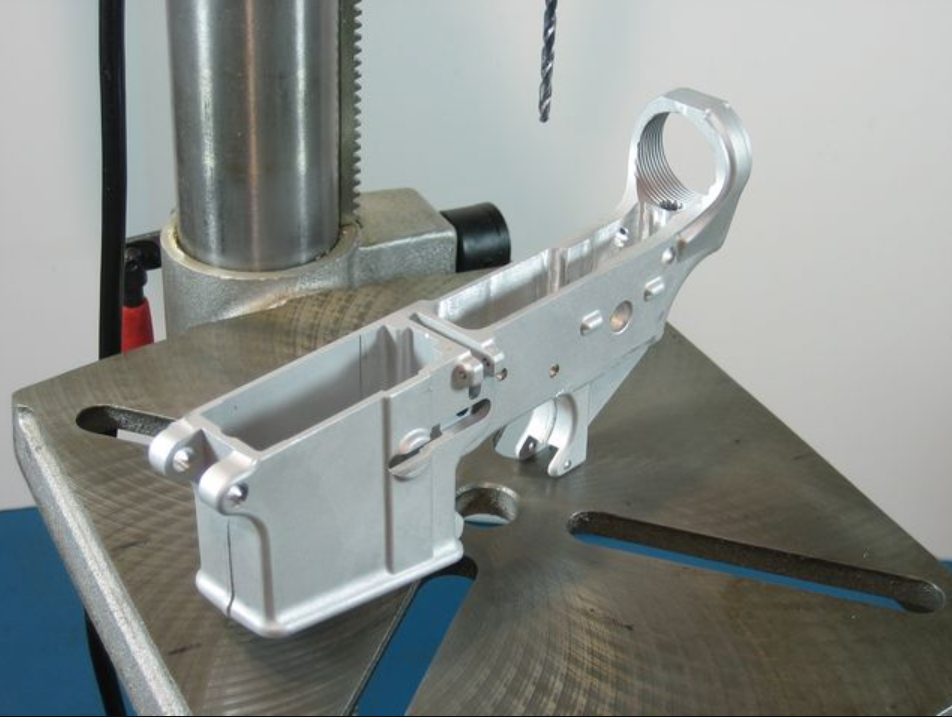 And the second way is if you purchased a stripped lower receiver, like the ones you can buy from Brownells or practically any gun shop online or offline (be aware that a stripped AR-10/AR-308 lower receiver is an actual firearm, so if you order it online, it will require transfer to a local FFL before they can transfer it to you with all the background checks, etc)
This Guide Assumes You Are Building A "DPMS Profile" AR-308 (Also Called An AR-10)
There are a couple of potential "stumbling blocks" with an AR-308 build as opposed to an AR-15 build…
The main one being the AR-15 is based on a standard, mil-spec design that every manufacturer on the market follows (at least in regard to the lower receiver).
What this means is, practically any AR-15 lower parts kit will fit in practically any AR-15 lower receiver.
This is not exactly the case with the AR-308.
What it boils down to is that large-frame AR-pattern firearms like the AR-308 can be produced in two major design variants – commonly called the "AR-10 profile" and the "DPMS profile".
According to some reports, .308 rifle designs with the DPMS profile represent 87% of the market. Therefore, the AR-308 I built, and the one that we're focusing on in this article is the "DPMS Profile".
That said, even among different manufacturers, there can be some variances with how the parts fit together – for example – between a Palmetto State Armory AR-308 lower receiver and an Aero Precision AR-308 lower receiver.
The good news is that the popularity of .308 AR-pattern guns has led to more and more standardization across the AR-308 market, and most share the same lower receiver parts…
AR-308 Lower Receiver Parts And Where To Buy Them
Now that you have possession of your AR-308 lower receiver, you will simply need a "Lower Parts Kit" to finish it.
Let's take a look at a schematic of what parts are used to finish the AR-308 lower receiver, and then I'll follow it up with a list below for each individual part.
Be aware that the diagram below is of an AR-15 lower receiver, but the same names will be used for the parts, and many of the same parts are used for both the AR-15 and the AR-308: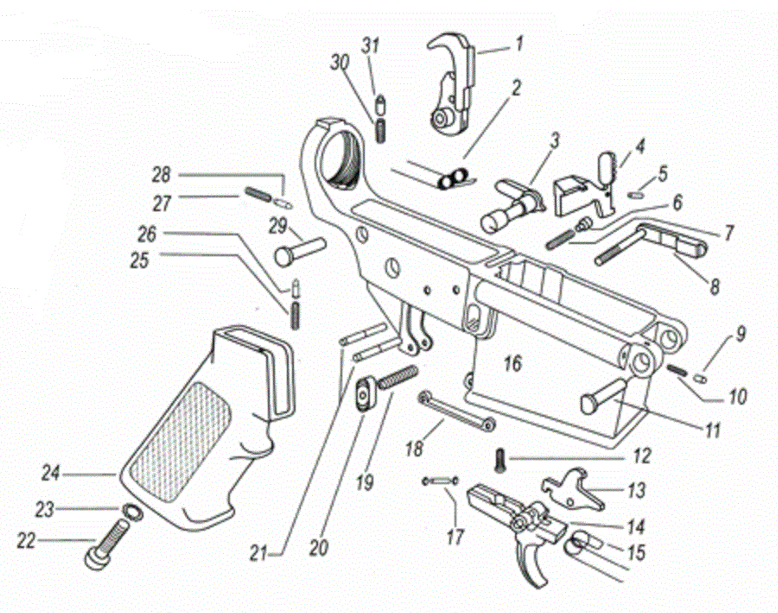 Hammer
Hammer Spring
Safety Selector Lever
Bolt Catch
Bolt Catch Roll Pin
Bolt Catch Plunger
Bolt Catch Spring
Magazine Catch
Pivot Pin Detent
Pivot Pin Spring
Pivot Pin
Disconnector Spring
Disconnector
Trigger
Trigger Spring
Stripped AR-15 Lower Receiver
Trigger guard roll pin
Trigger Guard Assembly
Magazine Catch Spring
Magazine Release Button
Hammer and Trigger Pins
Pistol Grip Screw
Pistol Grip Lock Washer
Pistol Grip
Safety Detent Spring
Safety Detent
Takedown Spring
Takedown pin detent
Takedown Pin
Buffer Retainer Spring
Buffer Retainer
The good news is that the only lower receiver parts that are different between the AR-15 and .308 Lower parts kits are the ones bolded in the list above. In short, these are:
The Bolt Catch,
Bolt Catch Roll Pin (or Screw),
Front Pivot Pin
Rear Takedown Pin.
Possibly the magazine catch
Everything in the "fire control group" is the same – including the trigger – which means any AR-15 trigger will work. That's a good thing if you want to upgrade your trigger!
So, while that list might seem intimidating, it's actually easy to get all the parts you need. You simply buy a lower parts kit. The CMMG kit is recommended because it is known to fit a wide variety of .308 pattern rifles.
You will also need:
A complete buffer tube assembly (with buffer spring and buffer weight). This is another part you'll want to match to the AR-308, because of the larger caliber and recoil impulse.

a stock of your choice if building a rifle or brace if building a pistol.
You can buy an entire "kit" to complete your lower receiver to save money and time
If you want to save some time and money, then you can just buy an entire lower parts build kit that includes everything in the lower parts kit, plus the buffer tube assembly and a stock too:
Of course, if you don't like those components (like the stock for example), there are other AR-10 complete kits to choose from as well.
Gunsmith Tools That Can Be Helpful To Complete Your AR-308/AR-10 Lower Receiver
There are a few tools that are going to make this easier on yourself…
A good punch set – if you already have a good set, this is not a necessity, but an AR-15 punch set makes it easy too. A brass set will make it so you don't scratch up your lower (if you care about that).
Hex Key Set – You might have these already, if not, good to get. I am starting to like these with the handles. But you need a hex key set.
Small hammer – you don't want to bang the crap out of your firearm, you just want a little extra finesse, the rubber/plastic ends help.
AR-15 Armorer tool – if you get one of the tools, it's mostly for upper receiver things, but it makes installing the castle nut super easy. This will work with AR-10/AR-308 parts too.
If you're starting from scratch, and don't have any gun-specific tools yet, then you might be better off buying a complete kit like the one below from Real Avid because it includes all the punches you need and the hammer:
I usually end up using my pocket knife, needle nose pliers and a flat head screwdriver at some point too.
You might want some painters tape to cover some parts so you don't "ruin your finish". I really don't care about scratches on my guns because I shoot them a lot and will later scratch them a lot. But, it's helpful if you do.
Also, something I've never done but seems super smart is to get one of those magnetic dishes so you can not lose all those little parts. Finally, if you're super fancy you can use a lower receiver vice block and you'll then need a vice to use with the vice block, if you don't have one already.
Step-By-Step Videos To Walk You Through The Process
I'll eventually break down the entire process step-by-step with pictures and descriptions, but because many people enjoy watching video demonstrations, please watch the following step-by-step videos.
(From time to time, YouTube has been known to remove gun related videos, so let me know in the comments if these go down.)
The good news is that assembling/building an AR-10 lower receiver is almost exactly the same as building an AR-15 lower receiver, but there are usually some important differences like where the rear takedown detent and spring go. In this video from Brownells, they go over most of the major differences in the two platforms:
Other than that, the assembly between an AR-15 and AR-308 is pretty much the same. This video shows a pretty detailed Aero Precision AR-308 lower receiver assembly:
Conclusion
Congratulations! Once you install your lower parts kit into your stripped receiver, it's ready to function. Now you're ready to mate your AR-308 lower receiver to an "upper receiver" and take it to the range.