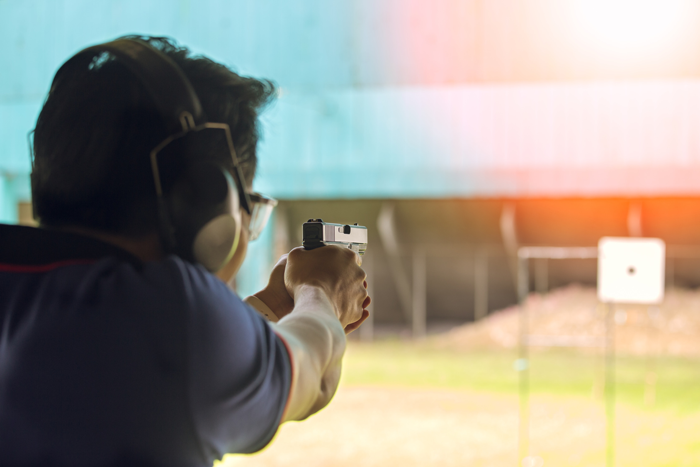 I recently wrote about the idea of "combat accuracy", what it means and what qualifies as an acceptable level.
A reader who either mis-read what I wrote (or like most people on the internet, immediately scrolled to the comment section to leave his thoughts before he read the article) said some of it was silly implying that I thought one should be able to shoot targets at 200 meters with their handgun.
In actuality, I had quoted Kyle Defoor who talked about his basic standard of 4″ groups with a handgun at 25yds and 4MOA with a carbine at 100/200yds.
But what the hell!
Today, let's talk about how you CAN make hits at 200 yards with your handgun.
Long Distance With Your Handgun Is More Than 25 Yards
While 25yds is the "standard" of long range shooting with a handgun, I have to admit I don't spend much time practicing at that distance. I have done a fair bit of it, but not to the extent of say a pistol bullseye shooter. To me it FEELS like a long shot at 25 yds, but it's really not.
As far as taking shots out past 25yds, I can only recall doing it one time. It was at the excellent FPF Training Course I took — we did a "walk back" drill (a mini competition where if you hit the target, you take a few steps back and try again until you miss) — and I believe I made it back to somewhere in the range of 40-50 yards before I missed.
At that distance, I clearly remember not being able to make a hit if I used a normal sight picture due to a number of reasons — not the least of which being the front sight of the handgun was covering the whole c zone steel target we were using. Heck John's range only gave us enough space to get back to about 75yds and I think that's where the winner of that drill finally missed.
So, I'll readily admit that I've not gone past 50yds. But I'd like to when given the opportunity again. Here's why …
Is This Silly? Just a Parlor Trick? Why Practice Long Distance Handgun Shots?
Back towards the end of 2014, there was an active shooter attacking downtown Austin. He actually didn't get very far (go Texas!) because he was stopped by Austin Police Sergeant Adam Johnson.
The crazy part of the story, if you remember the news coverage though, was that Sgt. Johnson shot the bad guy from 104 yards away … with one shot from his duty pistol … one-handed … while holding the reins of two horses agitated by the gun fire!
Yeah. That's a hell of a shot.
And YES. Good ole Lady Luck definitely smiled on Sgt. Johnson that day in Austin TX and God Bless her …
But, I can guarantee you that Sgt. Johnson, at one point in time, had practiced making long distance shots with his handgun because if he hadn't — if he thought his handgun was "only good" inside 25yds — he would have never even TRIED taking that shot.
So yes, while the probability of taking a long-range shot with your handgun may be low — you should become intimately familiar with your own equipment and how it and you can perform at all distances.
How To Shoot Long-er Distances With Kyle Defoor
Again, Kyle Defoor is a former Navy SEAL who now runs a private training company. In the video below he shows you how to stretch out your handgun past 25 yards. NOTE: this video is old and he's shooting (what I believe is) a Gen 2 Glock. If you have a Gen 4 Glock you can ignore his comments about getting a more accurate barrel as the Gen 4 Glocks tend to be more than accurate and he runs a stock barrel — getting the same performance — in his Gen 4 G19 now.
How To Shoot Targets At 200 Yards With Your Pistol
In another bit of coincidence, while I was pondering all this I came across an article written by Tiger McKee, the author of "The Book of Two Guns" where he explains how to make long distance pistol shots.
It's all about knowing your hold offs and trigger control at that distance. As Tiger writes (emphasis mine) …
"The key to shooting long distance is application of the fundamentals. Focus on the front sight, smoothly press the trigger, and you'll get good hits. Don't be surprised if have to change your point of aim as the distance increases to hit the center of the target. In class today I had two good shooters. We were shooting at seventy-five yards and each of them had to hold at the bottom right corner of the target to hit the center. But, once we determined where they needed to hold they were wearing it out, scoring hit after hit, with most of them within six inches of center on the target.
If possible it's good to brace or rest against something for stability. Can I hit the target at one hundred from standing? Yes, but if I can brace for stability it's going to improve my accuracy. In a recent class I had a group of great pistol shooters, but they had never really worked on long distance shots. By resting the pistol and hands, bracing on the wall, they were able to score head shots at seventy-five yards. They were not perfect head shots – between the eyes and nose – but they would have put a hurtin' on the bad guy for sure.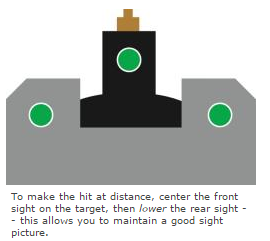 For really long distances you'll have to start compensating for the bullet drop. For this you want to hold the front sight on target, then lower the rear sight to get the elevation necessary for the hit. You need the front sight on target; trying to aim high or above the target doesn't work. If you can't see the target – your hands and weapon are blocking your line of sight – you'll have a hard time holding the sight picture. Keep the front sight on target and then lower the rear sight for elevation. For example with my 1911 I know the rear sight has to be half way down the front sight in order to hit at two hundred yards.
Even if you don't ever have a need to fire at long distance it's a great confidence builder; if you can hit at one hundred you can make hits at fifty. Hitting at fifty yards means twenty-five yard shots are easy. Now a ten-yard shot is a piece of cake.
The majority of your training should be within realistic distances. But, sometimes "real" might be different from what you thought it would be. Start working on long distance shooting. Apply the fundamentals. Learn where you need to hold in order to hit. You'll be surprised at the results, and it will make getting hits at normal distances easier."
I don't know if you realize the value of what Tiger shared, but that sight picture trick he mentioned is EXTREMELY important at that range. Because you quite literally can't see the target if you use a normal sight picture because it's smaller than the width of your front sight when you look at it.
Pistol Shots Have Been Made At 300, 400 and even 1,000 Yards (and caught on camera!)
Of course, this is nothing new to a lot of professional shooters who know the capabilities of themselves and their gear inside and out.
Here's Instructor Zero drilling man size targets at 300 yards with his Glock pistol all day long …

Then of course, there's the amazing Jerry Miculek. I waited to talk about him because hey, the rest of us are just mere mortals. But here is Jerry using his .380 Bodyguard POCKET PISTOL to make a 200 yard shot!

And his full size M&P 9mm competition pistol to make a 400 yard shot — on the first try!

And of course — because he's Jerry Miculek and only Jerry Miculek can out-shoot Jerry Miculek — he takes a 9mm revolver and makes a shot at 1,000 yards!
What About You?
What's the furthest you've ever shot a target with your handgun?
What type of gun were you shooting? Caliber?
How did you do it?
I'm interested to hear your thoughts!