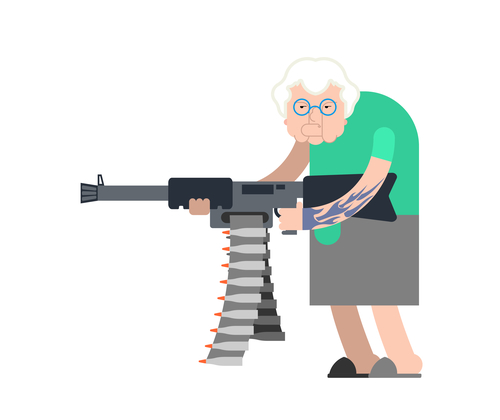 Anti-gunners keep trying to push gun control as a way to protect people as if guns have ever been the cause of danger or violence. Oh, they'll tell you, when you push them on that issue, that they just want to make sure that those who would do evil can't get their hands on a gun (and, maybe, they mean that), but the fact of the matter is that that gun control really only has the effect of keeping people from being able to defend themselves from violent people.
So, what kind of people use guns to defend themselves against criminals and would-be criminals? People like 79-year old great grandmother Gwendolyn Agard from Georgia. Bobby Cherry gives us the details:
A Georgia great-grandmother has a warning for intruders: don't mess with her.

When a suspected burglar broke into her home earlier this month, Gwendolyn Agard did what anybody would do and called 911.

The 79-year-old also grabbed her gun to protect herself and her home.

"I've always said, don't ever let anybody come in and run you out of your own house," she told WSB-TV.

The suspected burglar went up the backstairs of her house and broke a window to get in.

"And I said to him, 'You come down these damn steps and I'll blow your f—— brains out,'" she said. "That's exactly what I said."

That's when she fired two shots — both missed the suspect.

But when police arrived, they found the man hiding in the closet of a bedroom.

"That's why I say she's my hero," mail carrier Connie Oliver said. "That she could do this at her age, I was very impressed. And I'm thankful the good Lord took care of her."

And Agard agrees.

"Trust me. God was all in the picture," she said. "Because my legs were trembling. I was saying, 'Lord have mercy, Jesus.' And then, 'm—–f—-r' the next time. It was all mixed in."

The intruder faces a number of charges, including home invasion.
This great grandmother wasn't looking for trouble. She wasn't looking for violence to happen. And her gun didn't start a fight on its own.
This is what anti-gunners don't seem to be able to grasp: Violence can happen to anyone because people who want to cause violence will use whatever they have on hand to do the evil deed. But a firearm levels the playing field so that an elderly woman can make a criminal back down.
Gun rights have never been about starting a fight. Gun rights are about protecting oneself when the fight comes to you.