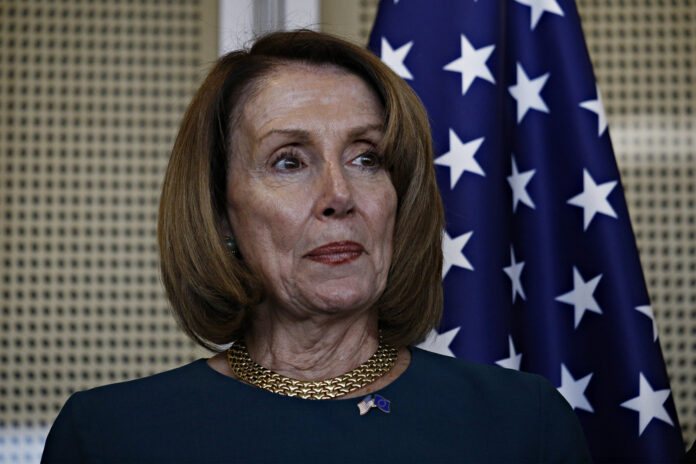 It will be no surprise to people who actually pay attention to what anti-gun politicians do that Nancy Pelosi has a long track record of living in a do-as-I-say-not-as-I-do manner.
You've seen it before from multiple anti-gun politicians: They don't want you to have guns to protect your life, family, and property, but they want their private security forces to have guns to protect them (and to keep you from having firearms).
It's hypocrisy, plain and simple, and Pelosi was recently called out on another example of this hypocrisy connected to her position on guns (hat tip to here for the lead).
First, Pelosi and company set up metal detectors and implemented fines for other lawmakers if they bypassed the metal detectors (well, those fines are supposed to apply to everyone, but more on that below). Dartunorro Clark, Alex Moe, and Haley Talbot write,
GOP Reps. Louie Gohmert and Andrew Clyde were fined $5,000 for bypassing newly-installed metal detectors as they entered the House floor, a senior Democratic aide told NBC News on Friday.

The lawmakers are the first members of Congress that have been fined for not following the added security measures put in place by House Speaker Nancy Pelosi, D-Calif., following the violent Jan. 6 insurrection at the Capitol, which led to fives deaths during the attack and in the immediate aftermath.
This is obnoxious enough, but, then, Nancy gets busted not even following her own rules (like she's done so many times before). Juliegrace Brufke writes,
A group of Republicans is calling for Speaker Nancy Pelosi (D-Calif.) to be fined after they say she failed to abide by newly implemented rules requiring members to go through metal detectors before entering the House chamber.

Republicans on the House Administration Committee sent a letter to Acting Sergeant-at-Arms Timothy Blodgett on Friday requesting the fine, arguing Pelosi should have to abide by the new rule that she pushed to implement.

"Yesterday, at approximately 9:59 am, multiple members observed the Speaker of the House entering the House Chamber without completing security screening," the Republicans wrote on Friday.

"What was observed was a clear violation of House Resolution 73 and you are required by House  Rules to impose this fine. Please inform us once the fine has been assessed," they added. "We look forward to a prompt response to this inquiry."

Blodgett responded by telling the members that he has not received a complaint from the Capitol Police about a violation by Pelosi.

"House Sergeant at Arms imposes the fine after receiving an unusual occurrence report from the United States Capitol Police (USCP). An unusual incident report from the Capitol Police is appended to the document sent to the Member providing notice of the fine," he wrote.
Some have even speculated that Pelosi was packing and that is why she bypassed the metal detectors.
And it looks like Pelosi will get away with it because law enforcement in the House, like so much other government bureaucracy, is in the back pocket of Pelosi and company. All at taxpayer expense, of course.
How anti-gunners can tolerate the hypocrisy from those who supposedly represent them on Capitol Hill is beyond me. You'd think that they'd have enough character to demand and expect the people that they associate with and that represent them to have integrity.
But, then again, they probably wouldn't be anti-liberty and anti-gun if they valued or believed in integrity, would they?