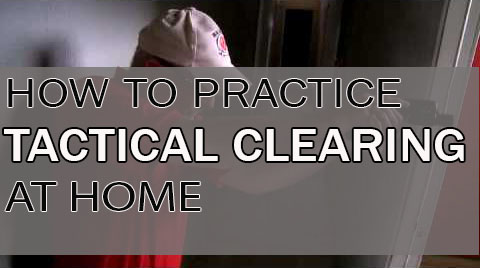 Tactical clearing of a building is complex enough, with all the variables that can come into play, that nobody should plan on doing it without extensive practice.
Police departments and the military have shooting buildings where they practice, shooting at dummies, with instructors on overhead walkways watching them.
Unfortunately, you and I don't have the luxury of owning a shooting house like that and building one would be rather expensive. But we still need to practice. So, we need to find another way to do it; one that fits with the resources we have available to us.
Fortunately, there are ways that we can effectively practice, right in our own homes.
All it takes is changing the guns that we are using. Instead of using real guns, we need to be using airsoft guns.
Airsoft is a sport where guns which appear to be real fire 6mm plastic BBs. Enthusiasts of airsoft use their guns for shooting at each other in mock battles, hostage situations, terrorist incidents and yes, CQB situations as well. If they can do that, then we can use them at home.
Airsoft pellets can't really do much more than sting a bit, unless they hit you in the eye. So, some sort of eye protection is recommended. Better is full face protection. They won't harm your home either, although there is the possibility of knocking over breakables. To prevent that, fragile items should be put away, before doing any building clearing practice.
Since you won't know the plans and locations of any bad guys that are in your home when you are clearing it, you need someone else to set up the bad guys for you.
Targets and Real Targets …
Print some targets and have them hang them in places where bad guys might be, without telling you where. That way, you don't have any unfair advantage over the bad guys. That person can act as a judge as well, specifically for whether or not the bad guys have a good chance of hitting you, instead of you hitting them.
The nice thing about this system, is that it allows you to go back and think through your moves, looking for errors and better ways of doing things. You should be able to tell the times and places where you are vulnerable and then go back to find a better way of dealing with those spots.
If you want to take it a step further, get other family members or friends to be the bad guys. That way, you're getting shot at too. Treat every hit like a real wound, forcing you to alter your movements based upon what that injury would do in real life.
The change of getting hit and not being able to complete your mission will probably cause you to act differently, especially after you've gotten hit a few times. Plus, the shots do "sting" a little bit, so that alone should make you not want to get hit or make mistakes and keep you from turning it into an unrealistic game where you take chances you normally would not have.
If you find that the airsoft BBs are a bit much for you, causing bruises, you can do the same thing with Nerf guns. While Nerf guns aren't all that accurate, I've found that up to about ten or twelve feet they're just as accurate as airsoft. So, if you use the sights, the shot will go where you are aiming. The gun might not seem real, but the ballistics will be real enough for your purposes. It's not perfect, but it's better than nothing.